You are at: Planned Giving > Gift Options > Donor Stories
ESTATE GIFT TO ASSIST SUNFLOWER COUNTY STUDENTS AT OLE MISS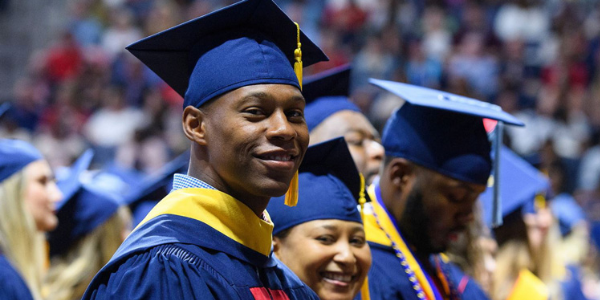 A couple defined by service to their communities designated an estate gift for University of Mississippi scholarships, specifically for students from Sunflower County, Mississippi.
The $300,000 planned gift from the Charitable Remainder Unitrust (CRUT) of the late Norma and Celian Lewis establishes an endowment, which will honor the couple in perpetuity while also helping offset college expenses for selected scholarship recipients.
The Lewises spent most of their married life - 38 years - in Sunflower County (Indianola, Mississippi), where they owned Lewis Grocer Co. There, they raised three children: Karen, Richard and Bill.
"Parts of Sunflower County, like other areas of the Mississippi Delta, are impoverished, meaning if kids in those areas want to go to college, they often need financial assistance. My parents wanted to help make college a possibility for students from the community they loved," said Richard Lewis of Atlanta, Georgia.
"They wanted their gift to allow these students to receive college degrees from the state's flagship university and then hopefully use that excellent education to improve their home communities."
A CRUT is a unique planning tool that can be used to generate income for donors and their families, while generating a charitable tax deduction and also offering an opportunity to offset capital gains taxes that could make selling some appreciated assets cost-prohibitive.
"These are wonderful tools to make a gift to the University of Mississippi Foundation and receive payments to help preserve your quality of life," said Byron Liles, senior director of gift planning. "Income from these gifts can be spread across multiple lives, a set term of years, or in some cases, both.
"Upon the termination of the trust whatever remains then reverts to the UM Foundation allowing you to impact future generations to come. These trusts can be set up to establish permanent endowments for scholarships, faculty support, athletics or any other area of campus you wish to support."
Celian Lewis, a native of Lexington, Mississippi, was the first president of the Junior Chamber of Commerce in Indianola. Later, he would become president of the Chamber of Commerce. He was also a Rotarian for 57 years.
In 1941, he was commissioned in the U.S. Army Quartermaster Corps, reaching the rank of major. During his service, he spent four years in New Guinea and Australia, where he was director of food distribution for the South Pacific area. There, he met Norma Thompson, a native of Sydney, Australia, who was to become his wife.
In the aftermath of Hurricane Camille, the Lewises set up a food distribution center on the Mississippi Gulf Coast. While there, he spent a great deal of time organizing distribution centers for the surrounding areas.
Norma Lewis was active in many civic affairs, starting a bridge club and the Town & Country Garden Club, becoming its first president and also helped start a Great Books program. She served regularly on the annual Community Chest and was vice president of the PTA, an original member of the Jesters social organization, a member of the Teen Board, and a N.W. Mississippi Girl Scout Board member.
Additionally, she served the youth in her community as both Cub Scout and Girl Scout troop leader. She was instrumental in the building and landscape design of the Immaculate Conception Church, where she later taught Sunday School.
After Celian Lewis retired from the grocery business at age 65, he led a marketing group, promoting the catfish industry nationwide.
In 1985, the couple retired to Destin, Florida, where they worked with the Chamber of Commerce and delivered Meals on Wheels for 20 years among many other civic service activities.
The Norma T. and Celian H. Lewis Scholarship Endowment is open to gifts from individuals and organizations. Checks may be mailed to the University of Mississippi Foundation, with the endowment noted in the memo line, to 406 University Ave., Oxford, MS 38655. Gifts can also be made online by visiting https://give.olemiss.edu .
For more information on including Ole Miss in estate plans, contact Byron Liles, senior director of gift planning, at [email protected] or 662-915-7601.
By Bill Dabney